---
Montreal photographer, Wassim Njeim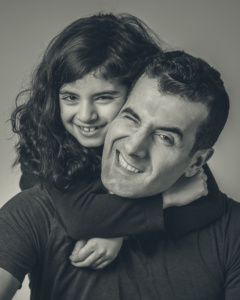 Wassim Njeim's career began many years ago as a prolific and passionate portrait photographer. He then began exploring other types of photography with the same energy and dedication, applying his carefully honed skills to create some of the most evocative photography to emerge out of the Montreal photographic scene. He is now a sought-after professional for portraiture, weddings, commercial, editorial and private photo sessions of all types. He remains a methodical, reflective individual, conscious of his own need to forever expand and develop his art. Most of all, though his techniques have grown in sophistication, his creative approach has remained simple and pure. In his own words:
"… I photograph with passion and always seek to capture the essence and the unique beauty of my subjects."
Wassim Njeim's photography has been utilized in a variety of fields --- from product and commercial photography to editorial and fashion works. His photographs have appeared on commercial posters, catalogs and brochures mainly in Canada, but also internationally. He welcomes every contract and commission as a challenge to his creativity, each time attempting to surpass the quality of his previous works. This creative drive is perhaps what differentiates Wassim Njeim's work from that of other photographers; his artistic momentum is strong and solid, leading him toward visual discoveries, subtle tones and delicate light that are always surprising… oftentimes breathtaking.
"… I use high-end Canon DSLR cameras and lenses for my work, however, I think that it's neither the camera nor the eye of the photographer that takes good pictures. It is the thing we have between our two ears ... It's our brain and what we have memorized in it since the day we were born. That's why I always rely on my imagination and my feeling and try to see the picture in my mind and let it touch my soul before I press the release button on the camera."
Wassim Njeim's accepts commissions from private individuals --- such as models, actors, professionals, parents and wedding parties --- to small and large corporations, and ad agencies.
See Services & Fees for information on how to hire Wassim Njeim for your event or project.